Neeraja Aptikar born in Pune, was raised in several parts of Maharashtra - Satara , Pune & Karad, in a family of Sanskrit & Science Scholars, Writers and Musically inclined people.
Neeraja Aptikar, Hindustani Vocalist, a Performer and a Teacher is trained in the Gwalior and Kirana Gharana Styles under well-known Gurus, Sangeet Ratna Pandit Shivaji Rao Bharati and Professor Jayashree Ranade, pune.
She is trained in Classical, Semi Classical and Light Music in many languages and has been Performing and Teaching Music for decades for many years in India, US, Canada.
She is the recipient of many AWARDS and has collaborated with Canadian Musicians on 11 ALBUMS in World Music.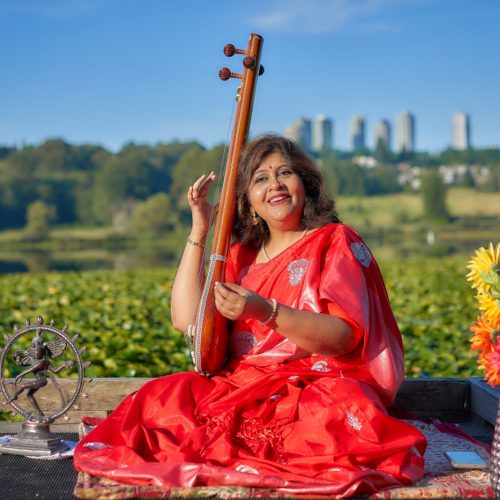 Stake your soul fire with the exceptional qualities of Hindustani Classical Music taught by the Authentic Music Master
Imbibe the Spirit of this exalted Music Tradition With :
INTRODUCTION TO HINDUSTANI CLASSICAL MUSIC
Ragas – Melodious and Rhythmical Compositions which Stir the Emotions and awaken Healing Power.
VOICE CULTURE AND SEMI CLASSICAL MUSIC
Dadra, Tarana, Thumri, Marathi – Natya Sangeet- evolved musical forms to develop Voice range and Precision.
Sanskrit Stotrams, Shlokas and Chanting with Proper Pronunciation – Natural Expressions of Devotion,Spirit, Wisdom and Love.
Hindi Bhajans,Kirtans,Folk songs, Marathi Bhaavgeet, Abhangas , Music to uplift the Heart and Ignite the Soul
To perform North Indian / Hindustani vocal classical music, semi-classical music and light music while actively pursuing a teaching career in the field of Indian classical music and light music to share Indian heritage and art in Multicultural community .
I have found Neeraja Aptikar's performance and teaching inspirational and informative. The first time I saw her perform was at the temple in Burnaby where she had some of her students demonstrate some of what they'd learned and sang a song on her own. In both cases her voice came through with beautiful exotic melodies which she helped make seem familiar. I have also taken private lessons with Mrs. Aptikar and she always carefully chose exercises and songs that were beneficial for my health, suited my voice and challenged me to learn.Most recently, she has been very generous with her time when she performed at a kirtan I organized and gave everyone there the gift of her beautiful voice accompanied by an equally skilled tabla player.
It has been a pleasure learning under the tutelage of Neeraja Tai. A very thorough, sophisticated and fun teacher, I have been able to learn a subtle blend of the theoretical and emotive components of Indian Classical Music. I have also received many opportunities to showcase what I have learnt and to meet other like-minded students, teachers and connoisseurs. Tai is well-versed in various forms of Indian Classical Music such as Khyal, Thumri, Dadra, NatyaSangeet & Abhang. Therefore, I have been able to learn a variety of pieces from the North to the South of India. A huge thanks to Tai for everything!
I've thoroughly enjoyed every class with you & I really hope we can meet more often next term.Thanks a lot for understanding me & having taught me with all your heart. It's rare to find geniune teacher's these days…but I feel so blessed that I found one (: have a great summer & i'll see you in september. Thanks again!
"Neereja is a patient, passionate and subtle teacher….and also practical! Her love for the intricate depths and effects of classical Indian music are contagious. She opens worlds of peace and spirit through her fine tuned and flowing voice. Her classes easily deepened my connection to the flow of my inner voice and its connection with the ancient melodies that have been ringing throughout time."
Neeraja's classes are amazing! After a class, I feel as though my insides have been massaged. I notice a marked difference in my tuning, range and clarity of voice. She is a patient and encouraging teacher, and is extremely well trained. Her voice is so beautiful, the classes are a delight just to have a chance to soak it in.
Music has been a constant part of my life since I was very young. I have studied and performed with many master musicians, theorists, composers, and musicologists during my university years and now as I continue to build my professional career. Neeraja Apitakar's talent for performing and teaching is truly beautiful, compassionate, and encouraging. I have been a student of Neeraja for approximately three years. With her I have learned 26 Ragas, thumris, dadra, bhajans, stotrams, and other song forms. Day in and day out she challenges me to learn, practice, and perform. Never holding back, she shares knowledge in an open and generous manner – an excellent and experienced teacher that I will always, respect, and trust. My initial interest in Indian Classical Music began many years ago while studying the music of minimalist composers Steve Reich, Terry Riley, Philip Glass, and most importantly LaMonte Young. During a class focused on the early Minimalist Composers I found a unique connection with LaMonte Young and Pandit Pran Nath, which has had a lasting influence. Since beginning my studies I have been introduced to the music of master Indian Classical Musicians including Pt. Jasraj, Ustad Amir Khan, Kishori Amonkar, Pat Kumar Gandharva, Pt. Mukul Shivputra, and many more. While attending concerts with Neeraja the opportunity to meet artists Ustad Shahid Parvez, Pt. Ram Das Palsule, Pt. Yogesh Samsi, and Pt. Miland Tulankar has provided immeasurable inspiration. Recently, I have had the honour of accompanying Neeraja with vocal support and tanpura at the In the House Festival and at the 120th Anniversary of Swami Vivekanada's Journey to North America. Her encouragement and positive spirit shines brightly in her presence both on stage and off. Sharing Vancouver as our adopted home, away from family, I know I can count on her like a sister in good and challenging times. I without reservation highly recommend anyone interested in learning about Indian Classical Music to seek Neeraja's instruction as it is a treasured experience of my own
I have studied Indian Classical voice with Neeraja Aptikar for 1.5 years. I am a professional singer, musician, multi-instrumentalist and songwriter. I was born in Nova Scotia from an Irish background. I trained as a singer since I was 7 years old; culminating in western classical and jazz at the post secondary level (Saint Francis Xavier University) and folk music from many cultures through my career. Formerly a backing vocalist with Sarah McLachlan; my original band Bottleneck toured Canada for 12 years and released two CD's to great acclaim. In addition, I am a singing teacher with over 30 weekly students. Neeraja is an intelligent and sensitive teacher. Her comprehensive knowledge of Ragas, the languages (Marathi, Hindi, Sanskrit, Urdu), historical background, Vedic scripture, Indian psychology and philosophy; combined with great insight into her students requirements make Neeraja an outstanding teacher. Neeraja's sweet pure expressive voice is an instrument of great accomplishment. Singing and studying with Neeraja, I now have much greater flexibility and strength in my own instrument. Neeraja shares her profoundly beautiful spiritual connection with her students through her wise choice of just the right Raga at the right time. She understands the mood of her students immediately; she possesses great emotional and social intelligence. She encourages and challenges, gently, but firmly guiding you to the next level. Neeraja has provided me with opportunities to perform with her in a variety of settings. She encourages me to attend concerts, lectures, workshops, social and cultural events that deepen my understanding of the art of Indian Classical voice. Neeraja always relates on your level. She teaches students of all ages; from the youngest children to people of retirement age. Neeraja is committed to Indian Classical music and crossing cultural boundaries with her Art. Neeraja encourages me to write my own Ragas and to develop fusions with other musical forms. I am working on several with text from great western poets and thinkers; as well as my own text. Working with Neeraja is a transformative experience. I hope to study with her for many more years.
I thought I'd drop you a line to let you know how much I enjoy your classes and concerts.Your mastery over the Indian Classical music, I think is unsurpassed. Your knowlege of the theory and its practical application are simply excellent. You also have a sense of humour which keeps us amused and attentive!I have had the opportunity of attending several of your classes. Each class has been a unique experience. I have found your concerts to be equally enjoyable. Having a superb voice is one thing but being able to sing with emotion and expertise is quite another matter. You are truly blessed.I look forward to many more classes and concerts. Your teaching methods are thorough and easy to follow. Your choice of ragas and bandishes are varied and interesting. You also go that extra mile, as they say and have a live good looking tabla player at all your classes! I like that.
Neeraja Aptikar is an excellent and patient teacher with a deep and genuine feeling for the subtle essence of Indian classical music. Shepossesses extensive knowledge of its traditions with a contemporary perspective. Even her approach to riyaaz (practice and scales) goeswell beyond simple repetitions of Sa Re Ga Ma by also giving a felt sense of each raga and some of its characteristic patterns. She isobviously well versed in many different styles of Indian classical music, and knowledgeable not only of the classic ragas but also manybhajans, stotras, kirtan, popular songs, etc. Importantly, she tailors her teaching to the abilities and situation of the student. After ayear now and despite my limitations, I still enjoy these singing lessons very much, finding in them a good balance of practice andtraining in musical sensibility and knowledge. Anyone with a real interest in Indian classical music will benefit greatly by learning from her.